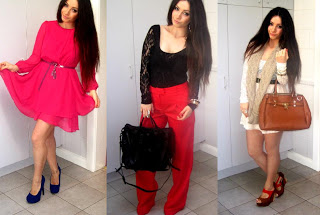 Happy Saturday Loves…(and Friday to those overseas 😉 
Just made my coffee to sit down and begin to Blog! Writing is such a big part of my life..I've always had such a passion for it, since I was a child..and I'm so excited to share with you guys my next video!
This Lookbook was inspired by Gossip Girl, Rachel Zoe and all things stylish in 2012!
I had the amazing opportunity to work with "Gabriel FilmProductions" for this video..it's amazing how HD the quality is! haha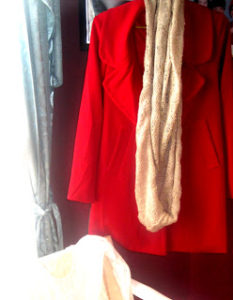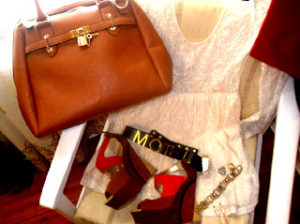 My first outfit reminds me so much of the season Autumn!
I wore a red long coat, inspired by Blair's fashion sense in Gossip Girl. I wore an infinity scarf in a brown tone, along with a lace white dress, all from Shilla Clothing. Their style is so chic and amazing, wearing these pieces; I've gotten so many compliments on the texture and style.
The beautiful brown tote I'm holding is from Cosmetic Loveand the Brown wedge shoes I'm wearing are super comfortable and stylish at the same time =] they were from Cassandra Jayne Heels!
The second outfit reminds me of the 70's chic "Bridget Bardot" look, which I adore. I must say, sometimes I feel like I was born in the wrong generation; I would have died from happiness if I was a 70's, 80's girl..Is that normal?! Haha ..probably not.
My red high -waisted pants are from Gosh Celebrity; and the top I'm wearing is actually a dress that I folded up, from Shilla Clothing. Wearing an outfit that covers your body, though leaving a simple aspect open (like my back in this outfit) gives it a sexy feature to it, without over doing it too much! The unique , detailed black bag I'm holding is from Fashion Code.
The third look is much more formal and sophisticated. I'm wearing this beautiful coloured Fuchsia Dress from Quae Bella, alongside the faux snakeskin clutch. I decided to colour block, to give it a bit of edge as well. My Blue pumps are definitely one of my favorites..I was a about to fall of my seat when I saw them the first time; they're also from Cassandra Jayne Heels.
Let me know which outfit you liked the best =] and stay tuned for my huge International (Jewelry + One Direction Magazine Giveaway 😉 
I truly adore you all- Keep Smiling 
Love Lilian x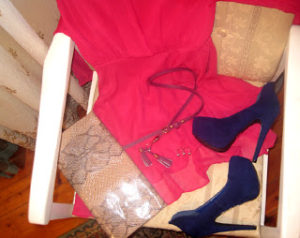 Love,