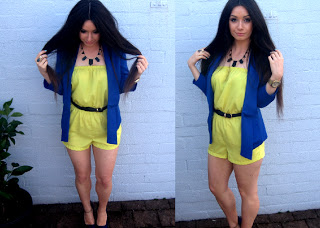 Hii My Loves!
Is it weird that I deeply miss Blogging?! I have been so busy with dance and rehearsing for our upcoming concert that I literally missed the element of writing =]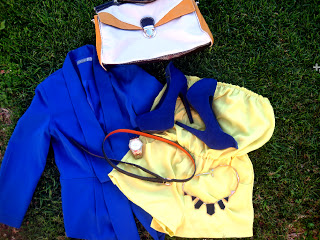 I decided to do a "Get ready with me" Video & an Outfit of the day. Since pastels and neon/bright colours are in season at the moment, my obsession for the statement coloured pieces has grown. I must say I've also been a big fan of statement jewelry pieces as well. So I teamed up my romper from Supre (that I got a while back), with an Electric Blue blazer from Forecast, and the blue pumps that I'm in love with are from Cj Heels.
To mix around the colour on my outfit, I teamed up my Gold Guess watch and statement ring, with a gorgeous necklace from The Dark HorseJewelry.  They have amazing pieces that can ultimately switch up an outfit and give it that extra chic element.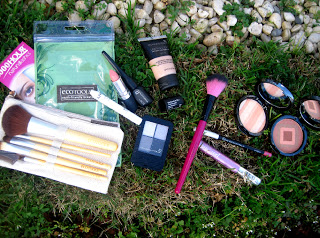 As my outfit was built around summer colours and bright neon's, I opted for a blue Smokey eye look. Creating this look was super easy! I used my Face of Australia foundation and Primer, with their Mercury Rising Palette. I didn't want to overdo the "Blue" in the eye, so using my EcoTools makeup brushes; I blended the shadow out quite a bit.  I must say I adore these brushes as they're soft and are made from natural materials! Definitely saving the world one look at a time! 😉 As mentioned in the video the Lashes I used were 1000 Hour lashes, as they're so strong and maintain in one position.
I wanted a sun kissed/bronze look, and with the weather in Sydney being cold, I had to use extra bronzer. This brand called Eles, that I had discovered not long ago, allowed me to achieve the sexy bronze colour without being in the sun. I'm not kidding when I say their palette was so soft, it honestly reminded me of a cushion. Haha
Let me know what you tend to wear when you go clubbing and what your favorite makeup look is..I TAG you all!!!
Adore you all
Keep Smiling
Love Lilian x
Love,