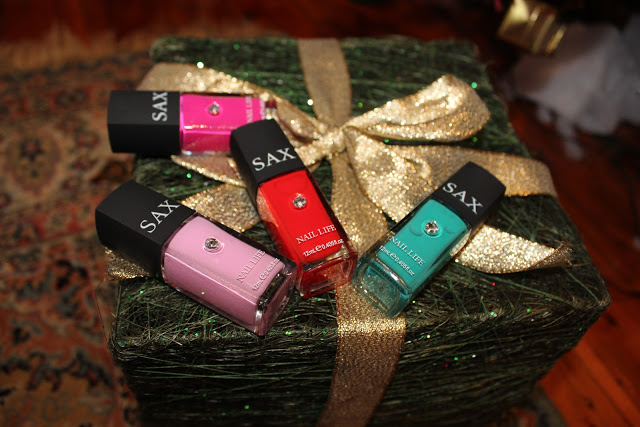 MERRY CHRISTMAS TO ALL MY BEAUTIFUL READERS & VIEWERS!! 

I want to start of by saying how thankful I have been for everything that happened to me personally and my YouTube channel this year. I feel absolutely blessed having beautiful individuals from around the world watching my videos and supporting me in every way…
So..Thank You! 🙂 



My family and I celebrated Christmas with a family dinner, followed with a night watching movies! 
I also decided to upload a Christmas Giveaway video, that also includes Cute Gift Ideas for the holidays 🙂

I included a diverse range of gift ideas and price ranges for both women & men in my video..I also included my favourite picks below..Hope you enjoy! 

One of my most favorite gifts to receive during any occasion always is nail polishes. I'm a big fan of the OPI range, especially their "Hope & Freedom" polishes, as they go on smoothly and include beuatiful vibrant colours.



One of my other favorite brands would have to include the SAX Cosmetics nail polishes. They recently  came out with a new collection and right though and up until now, I have been wearign the #90-Orange/Red nailpolish. The good thign about these are, that they're cheap and last for up to 3 weeks!! (Well on my nails anyway 😉
If you watch my videos, you'd know that I've always been a fan of staying organized, clean and neat; So Typo always has cute things for girls and women. I actually bought a diary for Sarah (my sister) from their and bought myself a 2013 diary planner. Girls that are busy, trying to organize and schedule events will love things like these as gifts 🙂

A few of my other favorite and cute gifts to give would be the MOR Cosmetics gift bags, as they have a diverse range of products inside them, like their beautiful smelling soaps, lip balms and hand creams.

The "EQuip" store also have elegant and stylish jewelry and accessory holders, that I think are the perfect gift (or side gift).




If someone you know is passionate about makeup, or has a hobby in collecting it, I would recommend a simple, yet vibrant coloured eyeshadow palette. One of my most favorite is from the Sedona Lace-"Babe Collection" range.

As I absolutely adore fashion.. if someone gifted me with anything bag/purse related, I'd be over the moon..so giving it as a gift must feel better!
Statement clutches and purses are items girls and women will continue to use for a long time. So gifting them as presents will allow them to become essential items in their wardrobe. 
One of my favorites clutches and purses come from Condura. They're great material and they include colours that stand out, yet are chic and stylish. 

Last, but not least..If you're looking to spend a bit more money, for the quality, I'd definitely recommend a hair straightener or curler. It's so important to purchase the correct one, as its going to be used daily and you want to ensure your hair will remain healthy. I have had my straightener and curler for a while now. I purchased mine from Flat Iron Express. They're very easy to use and it allows the curls (or straightened) hair to last for a long time!

MY CHRISTMAS GIVEAWAY ♡
1: Subscribe to my Channel: www.youtube.com/butterfliielilian
2:Subscribe to my Second Channel: www.youtube.com/liliansliife
3: "Like" FB Page www.facebook.com/gofavor
4: Comment this video with which numbered necklace and who it will be for/why?!

Good Luck!! 🙂 



Comment below and let me know your thought and what your list would be?!

Merry Christmas & Happy Holidays! Adore you all..Keep Smiling

Love Lilian x 


Love,