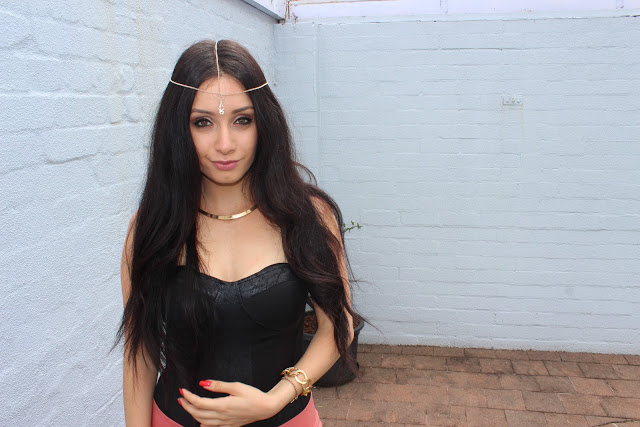 Happy New Years to my Loves!! Hope everyone had a beautiful night! Hope you all stayed safe, had fun and kept Smiling!

I decided to combine a few of my favorite New Years looks and outfits for a video. Since my viewers are all a diverse range of ages, with beautiful, yet unique styles..I decided to create a range of looks suitable for anyone of any age and fashion style. I also have a Christmas Voucher to give to one of my viewers for $50, from Datgirl.com.au !! 🙂 More information posted below x

Hope you enjoy them 🙂


The first Outfit  I put together was..
"Sexy & Chic"

My Corset is from Charlotte Rusee, My pants are from Romwe and my headpiece is from Sportsgirl.
The shoes I'm wearing..has become an obsession; they're from GoJane. 
Second outfit:
"Girly & Sweet"
The dress is from Dat Girl, the shoes were from a boutique in LA and the white cuff is from Shopbelina and the beautiful white/gold ring is from Dulcecandyxo.
Third Outfit:
"Fashionably Cute"
Fourth Outfit:
"Classy Pastel"

This dress definetly caught my eye when I first saw it. I absolutely fell in love with the pastel purple colour. The dress if from Shilla clothing, the pastel blue wedges are from Modocat and the bag from a Sydney Boutique. 

Fifth Outfit:
"Classic Bombshell" 

This classic look, was inspired by the Kardashians. The beautiful black peplum dress is from Dat girl. The shoes from Steve Madden and the purse from Condura. 
Sixth Outfit:
"Pin up with a Twist"

This outfit was one of my favourites. The dress and blazer are both from Romwe clothing. The shoes are from Steven Madden and the ring is from Dulcecandyxo.
Giveaway Rules:

1:Subscribe to www.youtube.com/user/butterfliielilian
2: "Like" the Dat girl FB Page-www.facebook.com/datgirlau?fref=ts
3: Comment on their Page saying which clothing piece you like & why?!

-Open INTERNATIONAL and Giveaway ENDS:10th of January 2013
GOOD LUCK! X 




Until next time, I love & adore each and everyone of you

Keep Smiling..Love Lilian x 
Love,