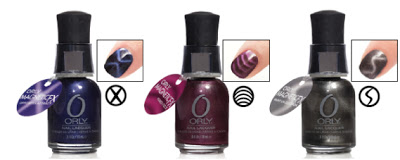 Happy Monday night my Loves! 
Sitting wearing 2 layers of clothing, all snuggled up in front of the desktop, I have the milk heated with honey on my right and a stack of the latest fashion magazines on my left.
 

I absolutely adore setting my week in my purple agenda, clearing my old lists and adding my new goals. Once they're ticked off, it may be one of the best feelings in the world. 
Please tell me you guys agree?! haha
I decided to blog about this polish I discovered a while ago and have worn it a few times already now. Orly has come out with their latest innovation recently, called the "Magnetic FX" nail polish collection!
It comes in 3 colours, with a twist! The magnet involved creates pretty unique shapes and patters on your nails once one layer of polish is applied. The entire process takes the same amount of time (if anything

 

…less time) than applying regular nail polish.
Its the perfect unique "Nail Statement" to have- Stands out, yet it's Chic!
Have you tried any magnetic nail polishes before? Thoughts? 🙂 
 Adore you all, until next time
Keep Smiling
Love Lilian x 
Love,