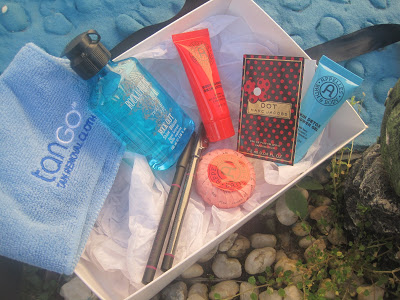 I can't even believe I am sitting here reviewing the August Lust Haves Pack, where the year goes, goes beyond me. Time is something that goes faster when needed and as the years pass, appears to go quicker than expected.
I think I can officially announce that personally, The August Lust Haves ranked one of my top favorites ever! It had essential products that were useful; perfect for the season and all seemed to be things I needed pronto regardless.
The Appelles Skin Detox Shower Gel has been in my shower for the past few weeks and am sad to official say, it is in fact running out; being one of my favorite items, I will definitely need to go out and purchase a tube myself.
Hair products for me are always a must; having very long hair sometimes can be frustrating if I can't find the right products to use to ensure it stays healthy and shiny. Using the Tigi Rockaholic serum, not only fastens your hair drying time, although it does what it preaches…It Blasts the shine, and smells amazing. 
What were your thoughts on the August Lust Haves? Any Favorites?

Comment Below : )
Anyway, I'm off to pack, as I leave for LA on Thursday, until then..Keep Smiling 😉
Love Lilian x
Love,