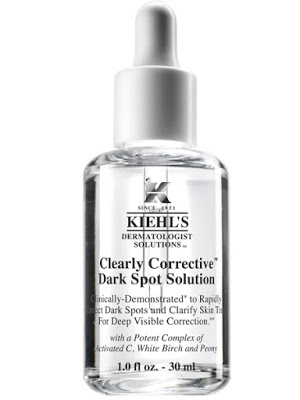 We're all women and we have our days, on some of them we look Fab..And others..Not so much..Its only normal.
Growing up, I have always had trouble sleeping..if I can go as back as before my birth, I can guarantee you from my mother's womb, I didn't ever exactly had a "good night's sleep"..Very sad…I know.
So I've always had the trouble of covering up my dark under eye circles with concealer; I never thought of actually "curing" the problem though.
A few years ago my mum actually introduced me to the brand "Kiehl's", as she tried their moisturizing cream. I was recently sent their "Corrective Dark Spot Solution".
Before I even got a chance to use it myself my sister had stole it from my room, and had been using it..I'm not even joking; it took me a while to steal it back.First of all it comes in a serum, I must say, this makes it easier to use the right portion (being one that takes more of everything than is needed, this controls my habits) hahaI tried it out for a few days, thinking it would be an oily texture; although once it dries, it gives your skin a sense of a brand new/fresh layer to work on. It clarifies your skin tone and corrects dark spots..And let me assure you..If my 17 year old sister steals the products away from me..It's good enough.
Now back to drinking tea..Adore you all.
Love Lilian x
Love,