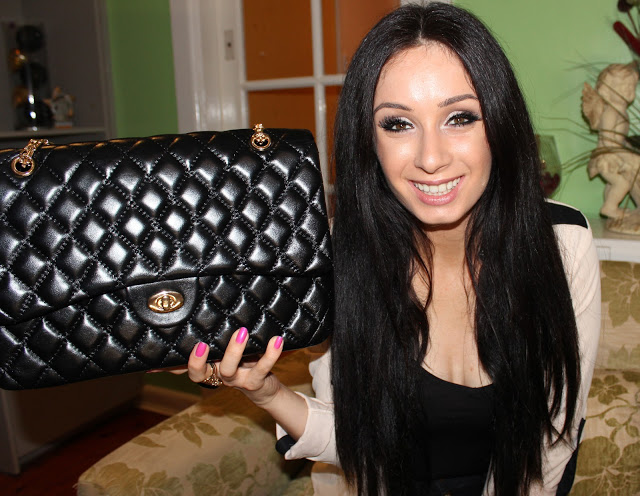 Hi My Loves!

It's currently 12:30am on a Wednesday night as I sit and type this.
 I've always been one of those people who have way too much energy for this time of night and just become more productive when the worlds asleep. 

So I decided to film an updated "What's in my Bag video" recently on my channel. Although this video, compared to the last one which I did a year ago now..has a surprise! 

I will be giving away the same bag shown in the video, to one of my lovely subscribers. The bag I'm currently using is from Bag Inc and it's called the Adele Flap bag, in black. It is so chic, stylish and tough (with great quality). One of the things I love about it, besides being leather, is that it collaborates well with any outfit. 

Wearing it, gives you that extra bit of confidence, style and drive..well it does to me anyway 🙂 
Every time I wear it out, I get stopped and questioned, on where it's from and the cost. Although now one of you beauties can win it!

The rules are very simple and easy! Below is how you can Enter into the Giveaway!




Giveaway Rules:

1: Subscribe to my YouTube Channel
2: Like BAGINC on Facebook: http://www.facebook.com/baginc
3: Follow BAGINC on Twitter: http://twitter.com/#!/bagincbags
4: Subscriber to BAGINC's YouTube Channel:https://www.youtube.com/user/OriginalBaginc
5: And leave a comment below letting me know you've entered! : ) 
Giveaway Closes: 25th Dec closes!! 

GOOD LUCK LOVES X 

Also, since it's Black Friday..The "ROMWE BLACK FRIDAY" Annual Sale is on!!!
Its where you can get Up to 70% off, from 21st through 26th


Until next time..I adore you all..Keep Smiling.
Love,