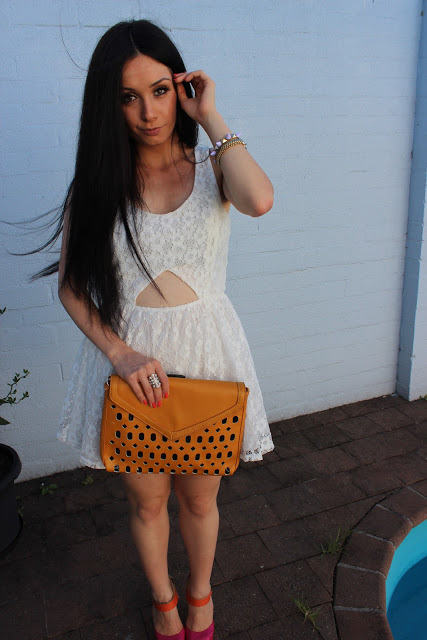 One of my most favorite times must be late at night. The energy, the drive, the ideas running through my mind, cannot be quite normal; to the extent that I honestly even prefer working out at midnight. Let's just say I'm different. 

A pink butter icing candle lit up on my right has my entire room smelling like its Christmas and my green tea in my palm gives it that extra touch of warmth and coziness that I adore.

Since Spring is coming to an end and it's time for Summer to come out, I decided to create a Lookbook with the current trends and my favorite outfits!

To WIN a special $50 gift voucher to Dat Girl.com scroll down and see how you can Enter it! 
Hope you all also enjoy the video at the end 🙂 

My First outfit may be one of my most favorites worn!
I recently discovered "Dat Girl" clothing company online and instantly fell in love with their style. Their items are current and on trend..and lets not forget to mention affordable compared to other online stores. They also ship worldwide which is amazing, but whats more amazing is that orders over $50 have Free Express Post available ! Just Sayin. 

I'm wearing the "Giselle dress by Australian brand Jorge" below and the red maxi dress shown in the video is also from Dat girl.
My Shoes are from Alias Mae. 


My Fourth Outfit: 

Is a casual fun outfit, that I put together using a plain black singlet from Zara and my two fitted high waisted pants are from Romwe. 
The Black boots are from Oasap. 


How to Enter the "Dat Girl" $50 voucher Competition!!!! 

Very Simply & Easy 🙂

1:  "Like" the Dat Girl Facebook page and tell them what your favourite Dat Girl piece is for your chance to WIN a $50 Dat Girl Voucher!!!. 

It's that Simple & it's open Internationally!

The Winner will be drawn randomly, on midnight on the 25th of November..right in time for Christmas 🙂 

Adore you all!! Keep Smiling

GOOD LUCK! 

Love Lilian X