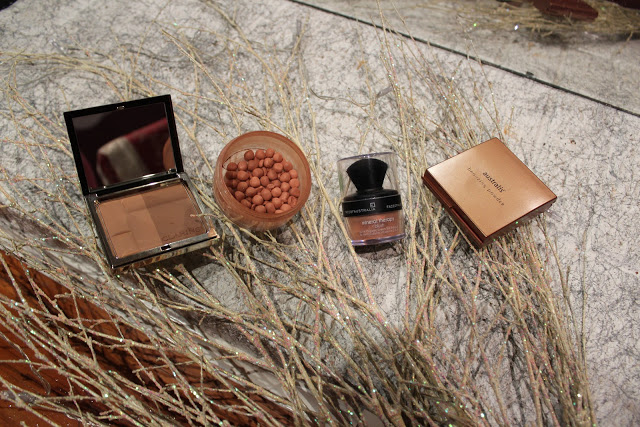 It's gloomy, it's cold and it's tea weather..What more can I ask for?!

My Blog usually concentrates on Fashion, Style and Trends..although I decided to switch it up and do a Post on Blushes & Bronzers, as I haven't for a long time now. 

Have you realized after your blush or bronzer is applied to your face..how fresh and awake you look?
I love this step in my makeup process and to find a blush/bronzer for the occasion can be a daunting task…why? because to me a blush/bronzer has to have the perfect tone, pigmentation and look for the right occasion. 

Here are a few of my favorite ones. 

On a daily basis the Face of Australia "Mineral Therapy" Blush is perfect, as it has organic green tea extracts & antioxidants in it. This leaves your skin room to breath as it's very light! 

For bronzers I definitely have a few favorites. From Sportsgirl "Oh My Goddess Bronzing Bead"which only retails for $12.95, to The Australis Bronzing Powder and one of my recent favorites, the Clarins "Bronzing Mineral Powder Compact"which can be bought from Myer and David Jones.

 These all work well with my  skin and depending on where i'm going, I use a lighter bronzer for the daytime and leave the dark/sparkly ones for a nighttime look. 

What are your favorites brands of blush and bronzers to use? 
Comment below 🙂 

Also don't forget to check out this weeks special on Romwe Clothing : ) You can get  30% off, from November 2nd through 8th   from their Store. 
Most items in this catalog are selected individually by their fashion team..meaning they're stylish pieces! x
Until next time..



Keep Smiling

Love Lilian x 
Love,